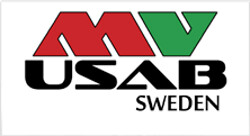 The sheet metal shop - MVUSAB Sweden - was founded in 2001 and has developed from being a small business into a healthy company with good prospects. MVUSAB Sweden is now a complete welding and machine shop.

MVUSAB Sweden is a competent supplier with highly developed skills and experience in servicing, maintenance and fabrication of steel structures in black and stainless steel, alumimium and copper. Capable of handling large and small projects, MVUSAB Sweden's key words are flexibility, cost effectiveness, efficient decision making and availability.

In the summer of 2004, Morgårdshammar AB sold their entire workshop to LOD AB, a principal owner of MVUSAB Sweden, it was at that time that Morgårdshammar Workshop was formed and 150 years of engineering tradition passed on. Today, MVUSAB Sweden and Morgårdshammar workshop are equal owners of MVUSAB Sweden.

Our professional employees have extensive experience and knowledge when it comes to machining in both manual and CNC machines guaranteeing good quality. Our machine department and sheet metal workshop facilities are adjacent to each other - their different skills make them a qualified team.

To succeed in an increasingly tough market, we must work constantly to improve not only the quality of the jobs we perform but to increase efficiency as well. We set challenging goals for the short and long term which inspires us to be even better in a constantly moving cycle.

The future is impossible to predict but we look forwards with confidence and are happy to accept the challenges that come with tomorrow. Success is also about acquiring partnerships, long-term relationships with customers and suppliers to create quality efficiency and security.