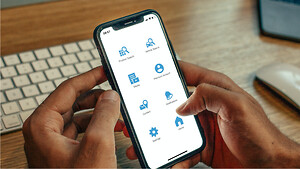 Today mobile devices are a vital communication and distribution channel – in private as well as in professional areas. The quality of the mobile support could be a dealmaker or a dealbreaker. The new generation of the TecDoc Catalogue App is your customized sales enabler, helping workshops, dealers, sellers and car owners to find the relevant spare parts of your brand in a most efficient and convenient way – anywhere and anytime! The international industry standard for spare parts data remains the basis for the new TecDoc Catalogue App. Because the TecDoc standard is globally uniform and recognized and is well-established in the market as a seal of quality.
Optimized for processing & transacting deals
Simply creating a mobile version of the desktop solution is not a real added value and therefore not the goal of our efforts. The TecDoc Catalogue App is optimized for processing and transacting deals. You can easily boost your business with a customized version of our app. You decide which modules should be displayed in your individual mobile solution; just add or remove them if necessary.
Better User Experience & new, game-changing features
We didn't only give the app a new look. New technologies make it work even faster. Due to the new layout we were able to increase User Experience and provide an intuitive handling with a more logical menu navigation. Besides the look and User Experience, we added some new features that clearly change the game.
VIN- & Barcode-Scanner
Just snap it: Using the OCR (optical character recognition) of mobile cameras is the most convenient and an in meanwhile common method of data entry. No matter if it is the VIN of a vehicle or the barcode of a product - identification made easy!
Dealer Module
Guide your potential customers to the nearest POS via google maps.
Media Module
Share your knowledge: Grant your customers immediate access to all product related documents such as videos or PDFs. Link your YouTube library or upload documents via the modern and intuitive admin interface of the Media Module.
Notification Module
Stay in touch: Push your product and company news, support your customers with an efficient and inexpensive direct mailing tool. Whatever info or news are to share - with the Notification Module you keep your customers informed about your latest products, promotions and company news.
Demo videos available on our YouTube Channel!
Do you want to know more about our new TecDoc Catalogue App and experience the new features? Robert Zebec, Solution Manager Mobile is demonstrating all of them on our YouTube Channel. Just follow the links below and see what benefits are in for you!
TecDoc Catalogue App introduction with Robert Zebec, Solution Manager Mobile: http://tec.al/introduction
Presentation of the new features: http://tec.al/special_features
What's next? http://tec.al/future_developments