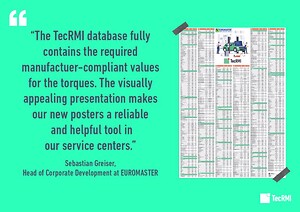 Just in time for the changeover to summer tires, TecAlliance has created a poster with tightening torques for the workshop expert EUROMASTER. The poster now supports the approximately 400 EUROMASTER service centers in Germany in correctly and reliably tightening wheel bolts to offer customers the highest possible safety.
The manufacturer's specifications regarding the tightening torques of the bolts and wheel nuts must be adhered to exactly when changing wheels. If the bolts are tightened too tightly and the preload is too great, they may break off with life-threatening consequences. If they are tightened too loosely, there is a risk of the bolts loosening on their own. TecRMI's technical data contains the correct tightening torques for all manufacturers. EUROMASTER therefore turned to TecAlliance for their workshop poster update. 
 Reliable and helpful tool
"We identified the tightening torques for EUROMASTER from the TecRMI database and used them to create a clear table for all current vehicles," explains Rainer Preis, who implemented the project at TecAlliance. The posters were distributed to all EUROMASTER service centers in Germany.
"TecAlliance implemented the project very quickly and efficiently for us. The TecRMI database fully contains the required manufacturer-compliant values for the torques. The visually appealing presentation makes our new posters a reliable and helpful tool in our service centers," says Sebastian Greiser, Head of Corporate Development at EUROMASTER.
EUROMASTER is the leading expert for tires, wheels and service in Europe and sells 10 million tires annually to more than 4.5 million customers. The comprehensive service network comprises almost 400 company-owned service centers and franchise partners in Germany and over 1,700 service centers in Europe with first-class equipped workshops for cars, light trucks, trucks and special vehicles.
With standardized data to a customized solution
With TecRMI, TecAlliance offers 3.9 million repair instructions, 4.2 million service plans with 22.8 million labor times, and 7.7 million technical data. Additional services such as tips & tricks, a range of checklists, and the Expert Hotline round off the offering.
Whether data-based consulting, specific data and technical information or the development of repair instructions – TecAlliance will also realize an individual solution that suits your needs! Your sales contact will be happy to answer your questions.