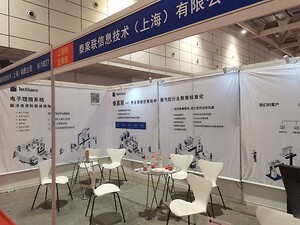 At China Automobile Parts Fair in Jinan, it was about the strong interest in standardized data and solutions combined with an energetic team of creative employees presenting TecAlliance's new branding and well-known products.
From October 17-19, TecAlliance exhibited at one of China's greatest meeting points for the automotive industry: Founded in 1965, China Automobile Parts Fair (CAPF) is a state-owned automotive parts exhibition, held biannually every spring and autumn in different cities of China. More than 3000 exhibitors from 31 provinces, autonomous regions and municipalities of China participated in the 90th edition.
The TecAlliance team has successfully shown what matters in the business: The structured, standard web catalog format offered in China and Asia Pacific is based on the TecDoc Standard and contains China-specific vehicle and item information, the TecAlliance China-ID. A data pool that is specially modified to meet the needs of the Chinese market already contains extensive replacement part information and is being expanded continuously.
Why the TecAlliance database would be nothing without the data suppliers: Their replacement parts information builds the basis for the powerful platform. As a data supplier it is possible to extend reach and tap into new markets, contributing to increased sales. TecAlliance offers a variety of solutions and services for professional data management, making it easy and convenient for data suppliers to provide high-quality article data to the Chinese and global catalogue.
At China Automobile Parts Fair TecAlliance also presented the solution TecCom Order Manager that helps to bundle the entire order-to-invoice process into one system. The aftermarket community benefits from the standardized message formats for all data transfers, leading to reduce time, cost, and efforts.
All aboard & off to Shanghai on November 24 for Automechanika! The Chinese TecAlliance family eagerly awaits this event. As of now, TecAlliance will search for the best data suppliers in China whose data meets the stringent quality standards in an exceptional manner again this year. The award ceremony will take place during Automechanika Shanghai.