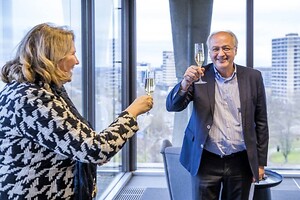 The contract was signed on 9 December 2022 and the move-in is scheduled for autumn 2022. Jürgen Buchert, CEO of TecAlliance, signed the contract and is already looking forward to the new opportunities the move to the new location will bring.
"We are pleased to join the business campus as the first automotive company. Brightlands Smart Services Campus offers optimal working conditions that will support our agile way of working in interdisciplinary teams in the best possible way. We are excited about the exchange with the other companies and possible joint innovation projects in the field of artificial intelligence", he says.
TecAlliance supports automotive aftermarket players worldwide advance their business through the power of standardised data. Based on more than 25 years of experience, their data and solutions help to sell more parts and increase efficiency of the entire value chain. TecAlliance has had a location in the Netherlands since 2015, after the takeover of the renowned data expert Headline that allowed to expand the portfolio with car park data and market inventory data.
"We're proud to add TecAlliance to our portfolio of data science and AI experts," says Astrid Boeijen, CEO of the campus, "and look forward to a successful partnership."