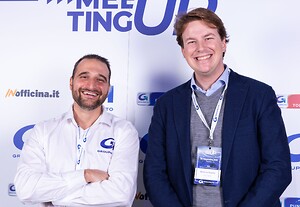 The automation and digitisation of their ordering processes helps distributors to reduce the error rate and to save time, which can be invested in better customer service. Both factors are important to increase customer satisfaction and ultimately boost sales.
Groupauto Italia is a member of Groupauto International, one of the most important international players in the independent automotive aftermarket. Groupauto Italia develops synergistic and competitive economic distribution models as an important commercial reference for both domestic and international suppliers. 31 members are part of the trading group, ensuring a capillary distribution of replacement parts throughout Italy with more than 210 points of sale, including branches, peripheral warehouses, partners and in addition over 2,000 workshops belonging to its network.
A major strategic step was the decision to join the B2B platform TecCom from TecAlliance, the world's leading data specialist for the digital automotive aftermarket. This allows the group members to communicate with all connected business partners – irrespective of format requirements and the connection technology. Today, around 280 major parts manufacturers and more than 35,000 buyers worldwide are using TecCom.
"We are very proud that such an important international trading group is convinced of the advantages of our TecCom platform. We are pleased to support them on their further path to success with the benefits of digitisation and automation", says Massimo Pozzoli, Sales Manager at TecAlliance.
Faster processes, better service
"Until recently, distributors and wholesale dealers communicated with suppliers by traditional means: by phone, e-mail or fax. All steps in the ordering process were manual, which was time-consuming and error-prone. Groupauto Italia invests in R&D every year and has developed the G-CAT portal to automate and standardise all processes: e-commerce, electronic catalogue and an extremely user-friendly technical information system. In order to further optimise the handling of order enquiries, we have chosen to use TecCom and the technology offered by TecAlliance. Thanks to this integration, the process of ordering replacement parts (from the workshop to the manufacturer) reaches the highest standards of efficiency", explains Walter Gariboldi, IT Manager at Groupauto Italia.
"TecCom is a simple and straightforward platform that allows us to place orders 24/7. It's up to the Groupauto distributors and wholesale dealers to decide if they prefer to benefit from the new integration with our intuitive G-CAT web interface or to use their own ERP system. In any case, the electronic delivery notes from the suppliers speed up the logistics and goods receipt processes and electronic invoices allow faster financial processes. The tool enables us to react much quicker to our customers' requests and shorten the delivery times", he sums up.
More information about TecCom is available on the website tec.al/TecCom.