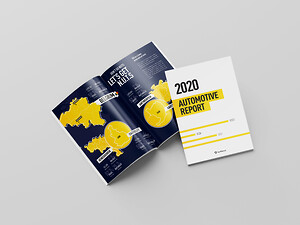 First introduced in 1991, the vehicles in operation (VIO) and OE services have become renowned sources of information. The latest edition gives a deep data analysis to ensure long-term success for the international automotive aftermarket.
Machine Learning and Artificial Intelligence lead to deep data analysis for long-term success
"The Automotive Report is derived from the Global Registration Vehicles in Operation (VIO) to paint a global picture of the current market situation", explains Chief Editor Bernd Meijers. "For this year's report, advanced machine learning algorithms are front and center in the whole process of creating the VIO data. Bulk data obtained from global sources is fed into an artificial intelligence (A.I.) tooling that automatically links the original raw data to the various vehicle tables with remarkable precision. The first results have revealed that the A.I. tooling ensures the best possible mapping against the global vehicle table that is known in the market — that's how TecAlliance is building the future to serve customers' needs."
Product Owner Robbert Lasoe points out further details: "In addition, data transparency is taken to a new level, providing insights into the challenges TecAlliance is facing and how TecAlliance is dealing with them. For instance, at the time of this writing, TecAlliance is preparing a source quality document which will tell customers precisely which data fields TecAlliance is receiving from each of its sources."
Automotive Report 2020 – how TecAlliance is building the future to serve customers' need
TecAlliance has matched the global data knowledge of its data specialists all with multiple experience in their particular fields and the knowledge of its subsidiaries in Mexico, Brazil, Asia and North-America about vehicles circulating in their home markets. The Automotive Report 2020 is the result of this great team effort.
The 125 page Automotive Report 2020 is available free of charge for TecAlliance newsletter subscribers and provides most useful information about today's Automotive trends and developments across the globe.