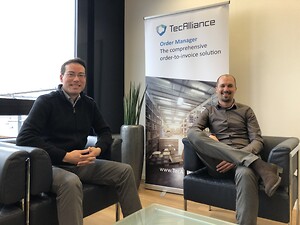 Returns management is a great challenge for the automotive aftermarket: Based on the experience of TecAlliance customers, up to 10 percent of all replacement parts are returned for various reasons. Processing warranty claims and returns is time-consuming and labour-intensive. Through digitalisation and standardisation, the processes can be optimised considerably, thus reducing process costs by up to 50 percent.
In this first part of our three-part interview series, our experts Moritz Mahler, Product Owner of the Order Manager module Warranty & Returns, and Business Consultant Masato Dünßer talk about the potential hidden in returns processes and how optimisation can contribute to business success while also helping to reduce negative impacts on the environment.
What are the major problems that the different players in the automotive aftermarket are facing with regard to the handling of returns and warranty claims?
Moritz Mahler: Before I started working at TecAlliance, I was employed by a wholesaler. I therefore know from experience how complicated and inconvenient returns processing often is and how much time is simply wasted.
In the automotive aftermarket, there are often no standardised or digital return processes. That means that there are several communication channels and that the whole process is not transparent.
For all involved parties, manual work is very time consuming and prone to errors. For the claimant, it is very annoying to contact different people through different means of communication to start the returns process and to know the status of his claim.
Masato Dünßer: For a manufacturer or wholesale dealer it is difficult to know why a part was returned: Is it defective? Was it installed correctly? And should they accept the part even if it is not in its original condition? They receive claims through different channels in different formats. Many claims do not contain all the information a manufacturer needs to decide whether the part may and should be returned. And after receiving the parts, he must check, sort and recycle them etc.
All these steps take a lot of time and tie up resources, although they mostly do not add any value to the business. And of course, returns logistics also heavily affect the environment. Many parts end up in landfill and tons of CO2 are released into the atmosphere due to transportation. If the processes are paper-based, this has additional negative impacts on the environment.
When you think of warranty and returns, the first thing that comes to mind is the problems associated with them. How could these processes contribute to value creation in the automotive aftermarket supply chain?
Moritz Mahler: Smooth warranty and return processes are a chance to improve the customer journey for manufacturers, traders and workshops. Close communication with customers, i.e. short communication channels, fast response times and transparent, digital processes all help to have more satisfied customers.
This is especially important for the wholesale dealers: As the link between the manufacturer and the workshop, they are particularly dependent on transparent and smooth communication in both directions.
And of course, optimisation also means cost cuttings. Wholesalers can save so much time and reduce their process costs by up to 50 percent!
Masato Dünßer: For parts manufacturers, warranty claims are an opportunity to improve the quality of their products. The faster an error is detected, the faster action can be taken, thus saving a lot of money and avoiding damage to reputation or even legal consequences and compensation cases.
And then there is another big issue: Sometimes it doesn't make sense to have a defective part returned. If the defect is clearly visible on a photo or video it is in many cases economically unreasonable to send back these parts. This means that a part of the transports could be avoided, again saving time and reducing effort and even benefitting the environment.
In the next part of the interview, our experts explain how our solution Warranty & Returns helps manufacturers, wholesalers and workshops to address these challenges and tap the full potential of process optimisation. Warranty & Returns was launched in April 2019 as a module of the Oder Manager and facilitates the management of warranty cases and returns.
You are already using the Order Manager, have a TecCom ID and want to give our Warranty & Returns module a try? Go to the Order Manager Online Portal, login with your user account and create your first claim!