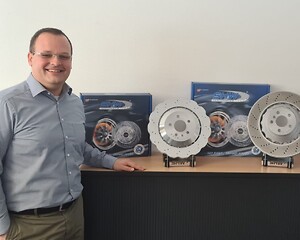 The independent aftermarket is an important growth segment for SHW, a leading supplier of pump and engine components, powder metallurgy and brake discs. The special division SHW Brake Systems develops and manufactures high-performance brake discs. Under the SHW Performance brand it is starting to sell OE-identical brake discs for the automotive aftermarket.
TecDoc supports smooth cooperation
"We have started talking to European distribution players. Easy onboarding, data quality, product availability and on-time delivery are the key expectations from their side", reports Matthias Reckziegel, Key Account Manager at SHW.
"TecDoc will help them sell, offering the ideal end-to-end system for accurate part identification to match the vehicle. With TecDoc, the onboarding of our product into distributors' own systems is easier to manage because TecDoc enables smooth cooperation among parts manufacturers, traders and workshops. That's why TecDoc is a vital factor for distributors – they are no longer able to handle and manage offline suppliers", explains Reckziegel.
Industry standard enables rapid market entry
Under the new SHW Performance brand, a product range identical to the one for OEMs is being introduced to the international IAM. SHW delivers parts for cars like the Porsche 911 GT3, BMW M models and Audi RS models, including the R8 with the wave disc that SHW developed. More than 290 brake disc types for the high-performance segment are already present in TecAlliance's TecDoc Catalogue, the world's leading automotive replacement parts catalogue.
"We believe that if you are not present in TecDoc, you are not present in the independent aftermarket. It is important for us to introduce our brand and product range so that our customers can easily find everything in the best possible standardised way", Reckziegel explains their decision for the industry standard.
"Thanks to TecAlliance's onboarding training, we submitted the product data for our full range of brake discs into the TecDoc Catalogue very quickly. Linking to the standardised product descriptions and the conversion to the TecDoc Standard went smoothly. As a result, our products can now be found by distributors and end customers in the TecDoc Solutions! By building on TecDoc's extensive industry knowledge and technical expertise, we can showcase our product portfolio to the entire aftermarket network (including part numbers, product and maintenance descriptions) for best-in-class visibility and sales", says Reckziegel.
A detailed interview with Matthias Reckziegel, Key Account Manager at SHW, about the company's ambitions in the automotive aftermarket and how an industry standard like TecDoc supports them is available here:
https://www.tecalliance.net/shw-pioneer-of-ventilated-brake-discs-joins-tecdoc-as-new-data-supplier/