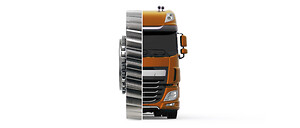 The product range of the Italian parts manufacturer includes a wide range of spare parts for gearbox and differential repairs, as well as a wide selection of undercarriage components for buses and trucks. CEI benefits from the global accessibility and availability of the TecDoc Catalogue to increase the value and recognition of its brand worldwide.
Ambitious in the automotive aftermarket
Based in Bologna, CEI has been producing replacement parts for buses and commercial vehicles of major manufacturers like Mercedes, Scania, MAN, Volvo, Renault, DAF and Iveco for more than 50 years.
The aftermarket is consolidating in the automotive repair service sector. Users are very price-conscious but do not want to miss out on the quality of original equipment manufacturers (OEMs). CEI products are designed and manufactured using the same technologies used by OEMs and are subjected to rigorous testing to measure their performance and reliability.
Given CEI's ambitions in the automotive aftermarket, it was a logical step to become a TecDoc data supplier. "TecDoc has always been a pioneer in the collection and dissemination of data, starting with CDs and DVDs and moving to today's most popular web portal," says Elisabetta Boni, CEO of CEI Group.
Easily finding the correct replacement part
When searching within the TecDoc catalogue, automotive professionals benefit above all from the precise identification of the listed articles. Data suppliers have to meet the requirements and format specifications of the TecDoc standard, which has been a globally recognised seal of quality for product information of the highest quality for over 25 years. Workshop operators access this data with the help of the online catalogue and can clearly identify the right part.
"The TecDoc platform has been one of the world's leading vehicle and spare parts catalogues for over 20 years. Workshops and spare parts dealers use it to easily identify spare parts and market them effectively. In this field, we can boast of being among the few to offer transmission and differential components for industrial vehicles", Boni adds.
More than 900 brands are now represented in the TecDoc Catalogue, the world's leading aftermarket catalogue. It comprises more than 160,000 vehicle types, 8.8 million item data, 400 million links and 134 product groups. More information about TecDoc is available at https://tec.al/TecDoc.